Becoming a Lifelong Learner
Becoming a Lifelong Learner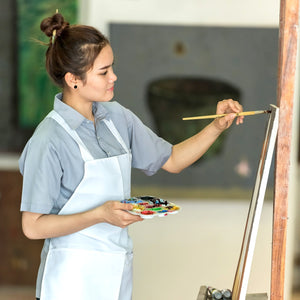 Growing up, I attended public school and got good grades. If you were to ask me what I remember from school, I would probably be able to recall a few things, but not much. While attending school, I learned what I needed to in order to pass a test; then once the test was over, I completely forgot it to make space for the new things I needed to memorize for the next test. 
Fast forward to today, and I am now learning to become a lifelong learner. As I am homeschooling my children, I have the wonderful opportunity to really learn those things I had forgotten as a kid. Because the end goal is not to pass a test, I am able to absorb so much more in my learning. What I have come to find is that exploring those things that really interest us creates a spark to want to learn. With that spark, I believe we can learn anything because we will do the hard work to learn it. 
I recently had this spark stir in my heart and was amazed at the results that came. Eight months ago, I decided that I wanted to learn how to watercolor. The only previous experience I had with watercolor was a landscape project I did in my fifth-grade art class, and the only thing I remember from that experience is that I didn't like watercolor and thought it was too hard. Despite this experience, I decided to try again. I bought some cheap supplies and a few online courses and began. 
I became so invested in learning and developing this skill that I decided to wake up one to two hours earlier to practice. I continued this habit for about four months and did not miss a day. My results were surprising! I went from barely being able to keep my hand steady with the brush to completing pieces people wanted to buy from me. I still have so much to learn, but I believe that with continued practice, I can keep improving. This is just one example of becoming a lifelong learner, and it came from my desire to learn, not an expectation. 
As you explore ways to cultivate lifelong learning with your children, may I offer some advice? First, notice what your child is naturally drawn to and build your learning around that. For example, my children love to draw, so when I read out loud to them, I always provide paper and colored pencils, and they draw what we read about. I don't make it required. I just provide the supplies, and since they are naturally inclined to draw, they are happy to do it. 
Second, look for opportunities to turn a spark of interest into a flame. This may require sacrifice on your part at times, but the results are worth it. For example, my teen has an interest in training animals, so when an opportunity came for her to work in a dog-training center, my husband and I decided it was a worthwhile investment of our time to rearrange our schedules so we could drive her to and from work. This spark has turned into a flame for her, and I have seen massive amounts of growth come from it. This is not to say that you need to say yes to every request, but you can evaluate the opportunities that come and decide if they will work for your family. 
As you contemplate ways to incorporate lifelong learning in your home, remember that you are the most influential person in your child's life. Is there something you have always wanted to learn or a skill you've wanted to develop? Show your children by example. We live in a remarkable time where anything we want to learn about is just a book or click away. Even if you haven't learned something for yourself in a while, it is never too late to start. 
I really enjoy adding quotes to my blog posts because there are others who can say my feelings and thoughts better than I can, so I will end with these words by Clay B. Bedford:
"You can teach a student a lesson for a day; but if you can teach him to learn by creating curiosity, he will continue the learning process as long as he lives."