Heart & Soul Time ™ | Part 1
Heart & Soul Time ™ | Part 1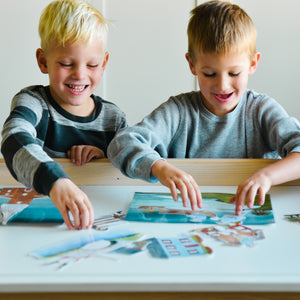 Heart & Soul Time ™ is literally at the very heart of our curriculum. When the family is gathered together, learning, loving, and making positive memories, hearts are nourished and bonds are secured. This time is set aside as a foundation for the rest of the day–prayers are said, songs are sung, stories are told and the rhythm of the day is established. 
During Heart & Soul Time™, families will listen to audio and written stories, watch videos, learn hymns and folk songs, listen to classical music, and view beautiful artwork. To keep their hands busy as they listen and learn, children will work in their learning guides, which includes poetry and scripture memorization, map work, journaling, and coloring pages.
There are many activities included in Heart & Soul Time ™ . Over the next few blog posts, we will explore the ins-and-outs of these activities and how to use them to enhance the learning process.
Hymn, Calendar, Poetry and Scripture:
Hymn—"Worthy music is powerful. It has the power to make us humble, prayerful, and grateful. Music has a sweet power to promote unity and love in the family. Music has [the] power to provide spiritual nourishment. It has healing power." –Russell M. Nelson (From a Church Educational System fireside address given May 4, 2008, at Brigham Young University.)
When you begin using the Mindful Heart curriculum, you will quickly become acquainted with the hymns and folk songs included in each unit. Both the Parent Guide and the Student Guide contain the sheet music for one hymn and two-to-three folk songs. Daily repetition of singing the hymn will not only help children learn the songs, but will also help early readers learn new words as they are seen over and over again. An audio link of the unit hymn is provided, and you may sing along using the link, or choose to teach your children how to play the song on the ukulele. (Ukulele chords are listed with the music in the learning guides.)
Calendar—The Mindful Heart encourages families to use a daily calendar. When children are able to mark off the old date on the calendar and write the new one, it naturally teaches young learners how to use a calendar and how to write numbers and dates, while also helping them grasp the concept of time. 
Poetry and scripture— Beyond the educational benefits, acquiring the skill to recite scriptures and good poetry can provide a lifetime of guidance and inspiration to lean on as a child grows. Each unit includes at least one scripture and a list of poems for the family to read together. Families may choose to memorize a poem or a scripture when studying each unit. 
Stay tuned for more information regarding Heart & Soul Time ™ …
READ Heart & Soul Time ™ | Part 2 HERE
READ Heart & Soul Time ™ | Part 3 HERE