Heart & Soul Time ™ | Part 3
Heart & Soul Time ™ | Part 3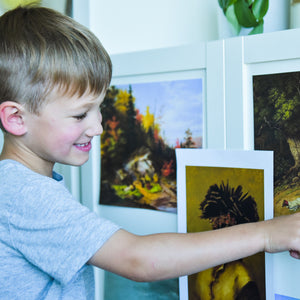 Artwork/Photo Images:
Artwork is an integral part of the Mindful Heart's 'heart-first' philosophy. Beautiful artwork has the ability to speak to the heart and soul in a way that is very tangible to young learners. They will be able to see the world with their own eyes as they learn about different places and people, and in turn, children will desire to share what they notice about the picture and how it makes them feel. You may choose to invite children to discuss their favorite part of the image or the emotions it brings out in them. For younger children, consider discussing what life might be like if they were in the painting. For older children, consider discussing how the artist uses light, lines, shapes, and color to draw one's eyes to a specific area, or how the artist used these tools to make the painting realistic or abstract. Once introduced, you may choose to display the artwork in your home to be enjoyed for the remainder of the unit.
The picture pack includes 20 pages of artwork and photos to enhance the learning in each unit.
Music:
We understand the importance of exposing children, at a young age, to the gift of good music. Children will be naturally drawn to the masters as they learn to appreciate the beauty and quality of the work of gifted composers. Included in each unit is information and artwork about one or more composers, and links to their music. There are a multitude of ways to listen and appreciate this time with your children. You may choose to play it as background music while completing other tasks or during free play or free writing time. Or, you may choose to provide time for each child to share his or her thoughts on the music, any emotions it evoked, or things it reminded him or her of.  As the parent-educator, you may choose to merely share your own thoughts for children to ponder on.
Read-Aloud:
Read-aloud time can become some of the most engaging, thoughtful, and strengthening hours you spend together during your homeschool journey. Reading aloud uplifting, quality books together can create lasting memories and a love of good literature. Nothing can compare to, or replace the time a parent takes in reading to their children. 
We provide a variety of books from which to choose from so that you can pick a book that best fits the ages, specific interests, and mood of your children. Reading a book that matches the unit theme will enhance the learning experience. However, if you have already studied the unit's theme in depth and would like to read something different, other options are provided. 
We suggest that read-aloud time lasts about twenty to thirty minutes; however, that time can extend longer or shorter depending on the levels and interests of the family.
Remember that the activities included in Heart & Soul Time ™ are to be used as they fit into your homeschool day. You may pick and choose every activity listed, or you may simply use the portions that best suit your family. Not everything has to be done in the way it is presented, but rather, use the information in the Parent Guide and make it work for you. The curriculum is meant to be a gentle guide, not an overwhelming to-do list. By prayerfully approaching the needs of your children, you will know what is most important for your family. 
READ Heart & Soul Time ™ | Part 1 HERE.
READ Heart & Soul Time ™ | Part 2 HERE