Learning Through Play
Learning Through Play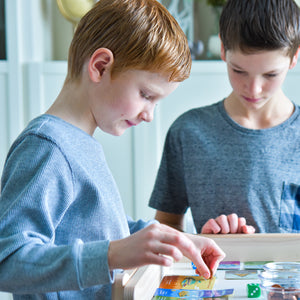 My first three children learned all their addition and subtraction facts in first grade through daily practice. We started with the easiest addition problems, like adding zero and one to a number, adding two to an even or odd number, subtracting one, subtracting a number from itself, subtracting half a number, and on and on, until they mastered the most basic math problems. 
Each of my children learned these concepts within their first year of math through practice and drill. It was a successful method, but it wasn't always as full of joy and delight as I would have liked. 
My fourth child started first grade math this past September, and his first math lessons didn't go at all like I expected they would. He already knew every concept I tried to teach him, partly because younger children learn as their older siblings learn, but the biggest reason for his math competency was . . . GAMES! 
Last spring and summer, when classes, schools, businesses, and churches were all shut down and there was uncertainty, fear, and anxiety in the air, my family was playing lots and lots of games. 
My six-year-old, who was between his kindergarten and first grade year, became familiar with numbers and simple arithmetic without worksheets, lessons, or drilling. He learned an entire year, maybe two, of math lessons in a single summer by playing games. It was easy for him. It came naturally. He wanted to learn, so he did. 
We continue to play a wide variety of games, and I want to share a few of our favorite math games, the skills they target, and their recommended ages* to spread the joy of learning through games with other homeschooling families! 
Sleeping Queens—addition/subtraction number sentences (ages 8+)

The Game—ordering numbers (ascending and descending) (ages 8+)

Zeus on the Loose—adding/subtracting numbers up to 100, adding ten to a number (ages 8+)

Gnoming A Round—adding positive and negative numbers, number patterns (ages 7+)

Money Bags—counting coins/money (ages 7+)

Sum Swamp—addition and subtraction (ages 5+)

Mind Block—creating number groups (ages 8+)

Prime Climb—addition, subtraction, multiplication, division, prime numbers (ages 10+)
*Children younger than the recommended age can absolutely play successfully with parental guidance.
We play most of these games on a weekly basis, not because they teach math but because they're fun! The math practice is simply incidental. 
Children learn naturally through play, and learning math through games is play of the best kind. Playing games as a family also knits us together in love as we experience the joy of learning together.