The Mindful Heart Approach to Homeschooling
The Mindful Heart Approach to Homeschooling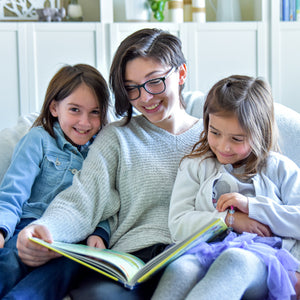 One of the greatest gifts that you can give a child is the gift of nurturing their heart through the avenue of discovery. As a parent takes the much-needed time to tend to a child's heart, their mind will instinctively engage and learning, growth, and development will be the natural outcome. The Mindful Heart is a homeschool curriculum aimed at following this heart-first philosophy of education–which takes a gentle approach to learning–as the most important aspect of education is to not only nurture a child's mind, but also their heart. Parents and children will learn and work together in a family-style environment that aids to support a child's innate love for their parents, their family, and for God. As parent-educators, we can create such an environment, and the curriculum created by The Mindful Heart is structured to guide families who desire to follow the heart-first method.
Our curriculum uses many different tools to help parents and children through the learning process; audio and written stories, artwork, poetry, scriptures, notebooking, games, and other activities all work together to create order and flow to the school day, while also focusing on shaping a child's heart and mind with a thorough and complete educational experience.
The Mindful Heart curriculum is made up of two parts: Heart & Soul Time ™ and Heart & Mind Time ™ . Utilizing both of these sections will offer a curriculum that covers history, reading and literature, language arts, science, math, art, and music. There are a variety of ways that the curriculum can be used, either in whole or in part, and unlimited options on how to implement it into your day.  In the American History Collections, both of these parts are located in the Parent Guide and supplemented with the Storybook.  In the Western World Collections, the Parent Guide only includes Heart & Soul Time.  Heart & Mind Time for elementary aged children is contained in the Mindful Explorations Book.  
As home educators, we understand that there are countless curriculum options out there for you to choose from. Our hope is that by taking a walk through The Mindful Heart, you will find the beauty, simplicity, and joy that you are seeking–for you and your family. Please follow our blog as we will guide you, step by step, through the curriculum and the many wonderful things it has to offer. 
"To speak to a child's heart, we must know a child's needs. If we pray to know those needs, the very words we say may have the power to reach into their hearts." –Rosemary M. Wixom