Organizing a Home Library
Organizing a Home Library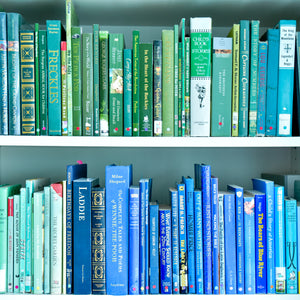 Homeschoolers are notorious for being enthusiastic curators of their own prolific home library collections, and I think we all struggle with how to keep our well-loved books organized. The longer we homeschool, the more difficult the task becomes—the collection grows, there are never enough bookshelves, and heaven forbid we ever have to move! 
So what is the best way to organize a home library? There are many ways to do it, and the key to success is to pick a system and stick with it, despite its inevitable imperfections. Use a method you can easily keep up with as you add more books to your collection. 
 There are usually two main goals of good home library organization, and they seek to address both form and function. We want our books to look nice on the shelves because they are often one of the main decorative elements of our homes. Also, we want our books to be easy to find and, more importantly, easy to put away. 
 I've tried many different systems, which means I've categorized and recategorized my entire collection of over 2,000 books several times. The method I finally settled on, and have been using for years, is a bit unconventional and surprises everyone I tell about it.
I organize my books using two criteria: color and topic. 
 When I add new books to my home library, I do a few things right away: 
Enter each book into Libib, a home library app

Put a colored sticker on the spine

Place the book on my shelf according to the dominant color of its spine
Spine stickers are what make this method work so well. I have different colors of 1/4" dot stickers, one for each group of monthly rotation topics. 
 When we begin a new rotation, we go to our bookshelves and pull off everything with that month's colored spine sticker and store them on a shelf in our school room. 
 I could just organize my books by the rotation topics to satisfy function, but I also want my bookshelves to be an aesthetically pleasing focal point (to satisfy form) in our home that makes a statement about our family and what we prioritize. 
I love looking at the rainbow of colors on my bookshelf. It's inviting and welcoming, inspiring and tidy. Furthermore, even two-year-olds can put a red book back where it goes! 
 I told you my method was unconventional, so what do you think? Would you ever organize your books by color? If you like the idea, try it with a small selection of your books and see how it goes. I think you'll love it and never look back! 
Happy organizing!